BUY BACK GUARANTEE
Home Inspection Clearwater Guaranteed!
Solid Rock Home Inspection is a member of the International Association of Home Inspectors (InterNACHI). If your participating inspector misses anything, InterNACHI will buy back your home, Guaranteed! You guarantee is based on the following criteria:
The buy back guarantee will be honored for ninety days after the closing of the home.

This guarantee only applies to verified members of InterNACHI.

Whatever price you paid for the home, we will pay you that amount.

It is imperative that the home is listed with a licensed real estate broker.

This guarantee does not apply to homes with material defects that were not found at the time of inspection. The buy back guarantee also does not apply to homes that are not required to be inspected per InterNACHI's Residential Standards of Practice.
This Home Inspection Buy Back Guarantee is included in your residential home inspection at no additional cost to you.
The purchase of a new home is probably the most significant financial decision you will make. It is important to know what kind of home you are buying and we agree. With the backing of InterNACHI, we will stand behind our work and our pillar to post home inspection services so long as the home in question was listed with a licensed real estate agent.
See Crystal Kroush's story below on the Home Inspection Buy Back Guarantee: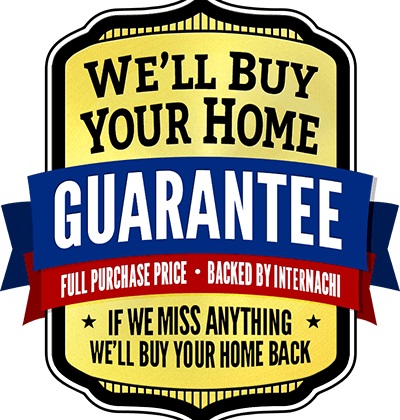 24 Hour Home Inspection Guarantee
Our pillar to post home inspection reports are guaranteed within 24 hours of completion of inspection and contain clear and concise descriptions of potential issues and clearly marked pictures of problem areas. If you are not satisfied with our inspection during that timeframe, we will treat you like family to ensure you receive the customer service you expect.
If our home inspection does not meet your level of satisfaction, your inspection fee will be refunded to you and a re-inspection will be performed at no cost to the client by a Florida State Certified Home Inspector. They will be an inspector designated as a "Master Home Inspector" and a member of InterNACHI.
The client must personally be present for the last hour of this re-inspection. This is for the inspector to review the details of their findings. Client representatives are not applicable for this guarantee.
A written request and release can be submitted to Solid Rock Home Inspections in Clearwater within the terms set on the real estate contract or within 5 days of the inspection in order to claim the guarantee.
This guarantee is good for due diligence inspections, 4 point home inspections or pre sale single family home inspections only. Commercial properties or residential multi-family home properties are excluded from this home inspection guarantee.
For more information on our guarantee or to schedule an inspection, please contact us today.