Our Property Inspectors Are Dedicated To High Quality Work and Top Notch Customer Care
At Solid Rock Inspections Group, we employ skilled and qualified property and home inspectors who are dedicated to being your partner in owning property here in Florida. Whether you need a 4 point inspection for insurance or a complete home inspection for a new purchase, our property inspectors have you covered. All of our property inspectors are InterNACHI certified, which means you get peace of mind knowing the condition of your property will be inspected with meticulous detail. Learn more about who we are and contact us to book your property inspection today.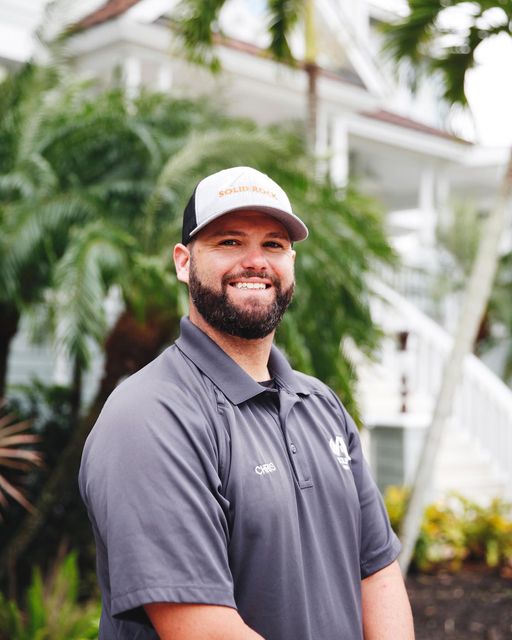 Chris
Chris is the Owner and Founder of Solid Rock Inspections Group LLC. Chris grew up in Pinellas County and attended Indian Rocks Christian School. He graduated SPC with a degree in Criminal Justice. Chris Served as a Clearwater Police Officer from 2006 - 2018, and retired to pursue his passion of property Inspection. Chris started Solid Rock Inspections Group LLC in 2015 and is a Florida Licensed Building Inspector, a Certified Professional Inspector with the International Association of Certified Home Inspectors and a Registered Professional Inspector with the Florida Association of Building Inspectors. Chris is also a Florida Licensed Mold Assessor and Mold Remediator.
Florida Home Inspector License # - HI8975
Mold Assessor License # - MRSA3913
Mold Remediator License # - MRSR4044
InterNACHI Member # - NACHI16031530
FABI Member # -  RPI - 0904
Dean
Dean was born and raised in rural Nebraska where he graduated from Shelton High School. He worked at Eaton Corporation for 7 years gaining 5 years of Quality Control experience. Dean then moved west to California where he was employed by McDonnell Douglas Corporation for a period of 7 years in Quality Control Inspections and Supervision. Dean relocated to Indian Rocks Beach Florida where he began a Lawn Maintenance Co. which he owned and operated for over 19 years. Dean then sold the business to pursue a new interest which brought him to Solid Rock Inspections Group LLC. Dean is a Licensed Florida Home Inspector, certified through InterNACHI and also holds a B.A. from Faith Theological Christian College.
Florida Home Inspector License # - HI11040
InterNACHI Member # - NACHI18011206
Scott
Scott was born in Oahu, Hawaii at Hickam Air Force Base. Both parents were enlisted in the US Air Force, stationed at wheeler AFB. Scott later moved to Georgia and while helping his mother with renovations on their new home realized his knack for home improvement. In 1999 Scott relocated to the Tampa Bay area, where he began doing home renovation for a general contractor. By 2004 he was doing interior redesign and exterior design, specializing in carpentry. While traveling he began doing storm repairs for FEMA gaining experience in all aspects of home design and construction. Scott joined the Solid Rock Inspections Group in 2020 and is a Florida Licensed Home inspector and a CPI through the International Association of Certified Home Inspectors. In his off time Scott enjoys hiking, kayaking and camping. He loves exploring the freshwater rivers and springs of Florida. Has traveled to 49 states and multiple European countries.
Florida Home Inspector License # - HI14287
InterNACHI Member #  - NACHI21041534
Mitch
Mitchel grew up in rural Ohio and graduated from North Central High School. Chasing his passion of storytelling and filmmaking he enrolled at the University of Toledo majoring in film Directing. After college Mitch met his soon to be wife Nicole on a film set and moved to Minneapolis, Minnesota where the two started a video production company. After nearly a decade of traveling and filming for large clients such as Delta, Amgen, BBC and the History channel, Mitch moved to Spring Hill Florida and he began studying to become a home inspector and joined the Solid Rock Team in 2020. In his off time he loves making indie films, playing music and exploring the outdoors looking for Big Foot.
Florida Home Inspector License # - HI12187
InterNACHI Member #  - NACHI18080713