The State of Florida defines a Wood Destroying Organisms (WDO) Report is "a written report of an inspection on a home for visible and accessible evidence of an infestation or damage by wood destroying organisms" These may include:
Living termites or other wood destroying insects
Evidence of termites or other wood damaging lifeforms including fungus
Damage performed by termites and/or other insects and organisms
Previous treatment for termites or wood destroying organisms
A WDO report will check for dry wood termites as well as subterranean termites. Subterranean termites are known to be some of the most damaging insects to a home. Our report will also check for wood boring beetles and wood destroying fungi.
Carpenter ants or carpenter bees are not required as part of a report. However, the presence of these insects is usually easily detected at the time of inspection and treatment options can be discussed.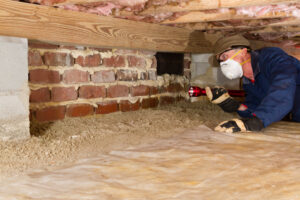 A wood destroying organism inspection is performed when a house is being sold and the mortgage lender or buyer requires the report as part of the transaction. When an inspection is done for these reasons, the report must be provided on a specific form as required by Florida Law.
Individuals performing WDO inspections must posses a certified pest control identification card designating them as having been trained in WDO inspections. Individuals with this designation are required by law to carry their identification card on them at all times.
Solid Rock Home Inspection has teamed up with Super D Pest Control to perform all WDO Report and Pest Inspections. If a Wood Destroying Organisms Inspection is requested, the inspection is scheduled for the same time as your 4 point home inspection so multiple inspections do not have to be scheduled.
Super D provides an industry standard WDO Inspection report and a treatment plan for all inspections. They are certified by the State of Florida to issue a WDO report.
» Click here for information on our home inspection checklist
Schedule an appointment with us by clicking the button below and we'll get back to you as soon as possible!